Duration: 3 days
Difficulty: 5/5 (strenous)
Height Diff.: 2100mt / 7000 ft
Lenght: 28Km / 17.4ml
Location: Orco Valley, Piedmont
Area: Gran Paradiso -
Remember!
Dates and features of our hikes are flexible: we can build together the adventure that is tailored to your needs.
Just Contact Us!
Description
Gran Paradiso Piedmont Trek
Gran Paradiso Piedmont Trek is described here and organized in a wild and adventure set. It is possible to change completely the "mood" of the trek, organizing the daily walks less long and sleeping in more comfortable shelters. By the way why we choose to make it wild is because Trekking Alps aim is to have a deep feeling with nature and there is nothing like a night in an unguarded hut in the Alps that make you feel more near to the Nature.

Gran Paradiso is the widest National Park in Italy and was the first to be established in 1922. The park is pretty big and has different souls and environment. In this section you'll find the Aosta Valley side of the Park which is more mild and less rocky. Probably this Piedmont side of the Park has more animals and has more dramatic high mountain environment: big granite walls are towering all over and the landscape is really wild and rough.

The Itinerary described is a trail, means we'll not be back in the same place. We'll keep our walk starting higher than when we'll arrive. The day hikes are pretty long but the positive gains are not enormous compared with other treks. In any case the Gran Paradiso Piedmont Trek has to be considered for people well prepared physically in the described hike. As already mentioned we can change it to a more mild and fit for beginners way.

Gran Paradiso National Park offers an unique nature with lots of wildlife and amazing views. We'll not reach peaks but crossing different valleys we'll have a very nice views over thre Orco Valley, one of the most famous valley for the italian climbing and hiking world.
Features
Details
Overview Map
Shelters
Overnight Staying Details
two nights in unguarded hut
Highest Point
Porta Pass (Colle della Porta) 3002m – 9850ft
Setting
Granite Walls, Lakes, Glaciers
Special Features and Points of Interest
Wilderness, Balcony Trail: Views!
Animals you may encounter
Probable: Marmot, Ibex, Chamois – Rarely: Eagle, Volture, Ermine and Fox
Family
Fit for children but we'll need to change the itinerary to make it milder
WHAT YOU NEED
Backpack (30-50 liters) – Rent Possible
Hiking Boots – Rent Possible
Light Sleeping bag – Rent Possible
1 t-shirt per day
1 fleece
1 jacket against cold
1 jacket against rain
2 extra socks
1 comfortable trouser
1 shorts
1 water bottle
Hat and gloves
Suncream
Sun glasses
Spirit of Adventure!
THE COST INCLUDES
Hiking Guide
Trasportation from Torino till the Mountain area and back (free service)
Overnight staying (directly to the shelter)
One meal per day (home made dinner at unguarded huts)
Suggestions for the organization of your trip (free service)
WHAT IS NOT INCLUDED
Other Meals
Air ticket till Torino
POSSIBLE EXTENSIONS AND CHANGES
In all Trekking Alps hikes there is a high degree of flexibility. Difficulty and duration of the hike can be changed and accomodation in bed and breakfast or hotel can be arranged. Just write an email at info@trekking-alps.com or write us a WhatsApp at +393386608548
---
This Trekking Day by Day
3D Overview
Day 1
Day 2
Day 3
Col del Nivolet (2600m) – Biv. Giraudo(2630m)
6-7 hours – 10 Km
Elevation up: 900m Elevation down:900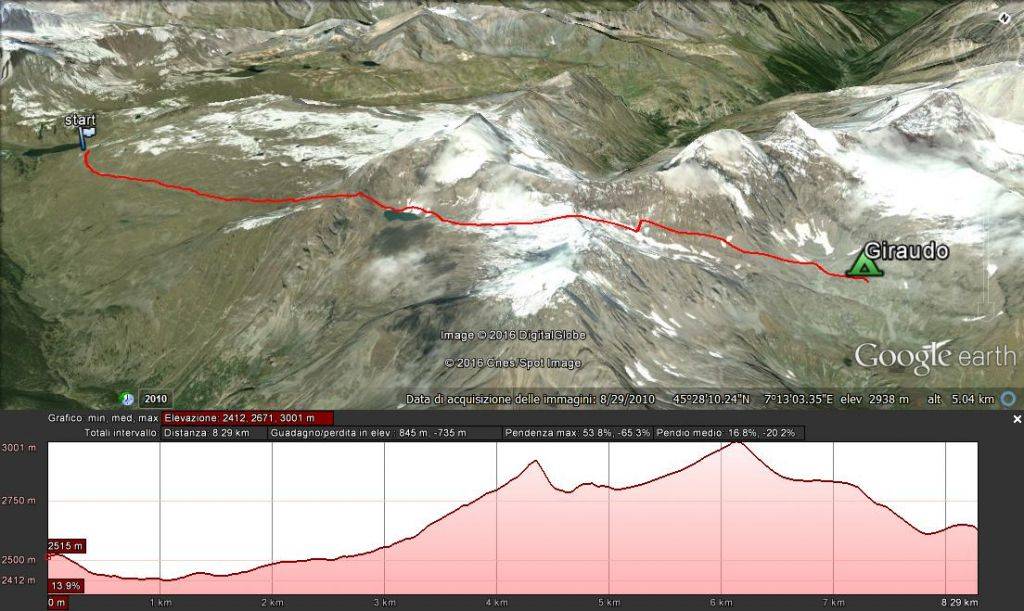 Biv. Giraudo(2630m) – Biv. Ivrea (2745m)
7-8 hours – 10 Km
Elevation up: 1000m Elevation down: 900m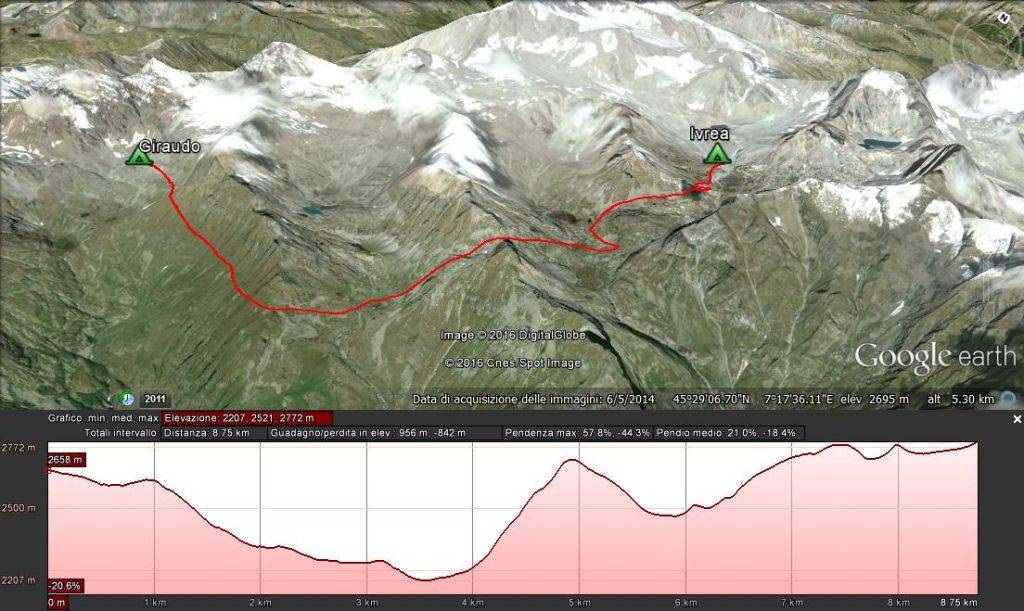 Biv. Ivrea (2745m) – Lago del Teleccio(1924m)
4-6 hours – 8Km
Elevation up: 300m Elevation down:1300m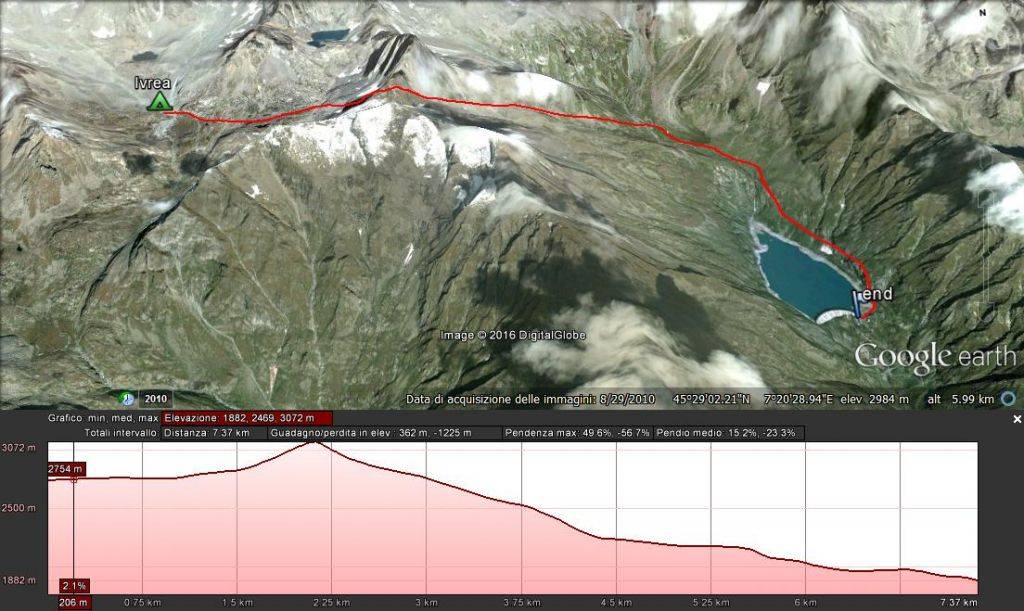 ---
Reviews for this Hike
Roberto is THE best out there. I had an amazing time trekking the Alps with him. Although weather didn't cooperate with us on the first day, Roberto knew how to handle the cards we were dealt and I 100% trusted his judgement and knowledge. If you're considering this trek, I definitely recommend doing it with Roberto. He knew the best treks and place where mountain hiking. We've been in Gran Paradiso National park hiking and it was a terrific trek!
Join one of the planned hikes and save money sharing the costs of the trek with other people in our Alps trekking tour. Check the next mountain hiking tour in the Trekking Alps Calendar and plan your trekking in Italy with us. In joining an hike you will be part of a lovely international environment.
Few Steps to find your ideal Hike!
Start clicking on the season