Trekking Alps: Responsible Hiking Tours in the Alps
Tailor-made Trekking in Italy all year round at affordable price: adventure, wildlife and excellent food in the Italian Alps!
Discover a White World in Winter
Spring means Nature Awakening
Simply the Best Place to be..
Autumn is the Festival of Colours
FIND YOUR TAILOR MADE HIKE
Using our Trekking Tour Configurator
Start Selecting your SEASON of choice..
You can join an already Planned Hike getting a discount on regular rate. Contact Us for any info about the hike and the party!
Trekking Alps Mountain Hiking Tours
Discover the beauty of Italian Alps, all year round!
Trekking Alps organizes all sort of mountain hiking tours all year round: half-day and one Day hike from Turin, Weekend Adventures, Hiking Holidays, Deluxe Comfortable tours and Snowshoeing in Winter. 
Let's browse the website and find the perfect trek for you. You can join one of our planned hikes and save or plan your mountain trekking in Italy according to your special interests. Wildlife sighting, trekking in the forest, high mountain environment or trekking peak: you will find everything in the Italian Alps. Trekking Alps organizes hiking for solo hikers as well as for families and big group.  Full Flexibility is our main strenght!
Why choosing Trekking Alps: Full Flexibility and Great Reviews
It is possibile to organize tailored-made alps trekking all year round. We are proud to adapt our offers depending on the specific needs of our clients. Trekking Alps offers customized guided Alps trekking tours in Italy specially organized for our guests at affordable prices.
Check the Reviews of the that have been hiking already with Trekking Alps: our passion for the mountains is complete and the Italian Alps are one of the best places in the world to enjoy a trek. You can double-check the reviews on Google Business and Trip Advisor. We got more than 600 people from 60 different countries! An International environment is waiting for you in the Italian Alps!
Explore our Hiking Areas - Italian Alps
Discover the Giants of the Alps

Hiking around the highest peak of the Alps

Gran Paradiso National Park, Monte Avic Natural Park and more!

Chisone, Susa and Lanzo Valleys

a spectacular hidden treasure in the Alps

Mountains where the sea is for sure the main protagonist
What our Customers say about us..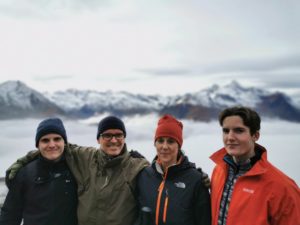 Great hiking trip
We had a great trip with 2 great hikes. Roberto is very knowledgeable, adapts the routes and destinations according to weather and level of expertise and is also a very nice companion to talk with. Highly recommend Trekking Alps to anyone that wants a nice experience inte beautiful Italian Alps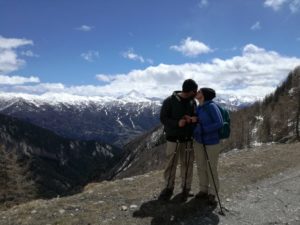 Came from Alaska, and we were Impressed!
We came to Italy to hike with both Enrico and Roberto. The trip surpassed our expectations. We did 5 days of hiking, 2 with Roberto and 3 with Enrico. Scenery was amazing, food, beer and wine were fantastic. Acommodations were unique, fun and diverse. We had a blast. Both of these guys are fun to be around, good conversationalists, and finding a way to make a living doing what they love. They made all the arrangements, tailored the trip to the conditions, picked routes we Alaskan's would love. I realize we were early in the season (April) but I was amazed they found places where we saw very few (zero on some days) other people while hiking. They offer great value for what they charge. I highly recommend Trekking Alps!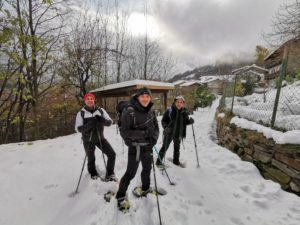 Snowshoeing in Coazze with Trekking Alps
Another breath taking experience with Trekking Alps. The weather was very variable, but somehow Roberto as always managed to fulfil our weekend with an awesome snowshoeing adventure. The rifugio was exceptional with all amenities...a much needed stove, a comfortable bathroom and plenty of room for sleeping. Roberto is a real gentleman, with a lot of sense humour and the best guide one can have. Not to mention the lovely supper prepared by himself. I recommend over and over again and shall definitely return without hesitation. Thanks again ..until the next one 😉
We operate in Turin - Northern Italy
Trekking Alps mountain hiking adventures all start from Turin (Torino in Italian Language), in the north west of Italy. Torino is in the Center of Europe and is considered one of the Capital of the Alps. 
Turin is located in a strategic position from where you can reach all the West Alps areas. Coming to Turin by flight is easy as there is an international airport in Torino Caselle(TRN). 
If you live or you are visiting Milan (Milano in Italian language), you can easily reach Torino and its mountains even for a day hike. From Milan city center you can get to Torino by train in 50 minutes.