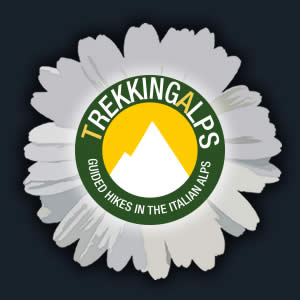 Alps Hiking in Spring - March, April and May
The miracle of Nature in the lovely environment of the Italian Alps
Spring hiking in the Alps is like living a dream. The power of Nature explodes again after the long months of winter. And slowly, starting from the low altitudes, rises till the high peaks of the mountains where the flower will grow only in late summer. 
Spring is a period which changes quite a lot from year to year depending on how much snow have fallen in the winter and which are the temperatures in April/June period. Sometimes Spring can be considered already mid March, sometimes it starts only at the end of April. In any case even in this season, you will definitely find a fantastic environment where to spend your hiking holidays in the Alps. Even in the cities you will not find hot temperatures and a nice breeze is usually blowing. Sometimes this season can be rainy so it is very useful to have a day of flexibility when starting the hike so that it is maybe possible to start during a sunny day. 
 Italy in general is just perfect to visit. The countryside of Piedmont with its vineyards and wheat fields and same city Turin are definitely at its best. And the mountains already offer a splendid opportunity to live the wild side of Italy. In enjoying a spring Alps hiking you will avoid mass tourists and you will be amazed by the enchanting power of Nature in the Italian Alps.
Our Spring Hiking in the Alps
There are many good reasons why hiking in the Alps in Spring. Spring is the most enchanting season for hiking. Nature, waterfalls, flowers,… And you do not need to go up at 3000 meters to get the explosion of Nature in the Alps. Here's the reason why to choose spring gor your Alps Hiking:
Wildife: The animals come back to life with the grass
Waterfalls and white waters:  Water means life!
Flowers at low altitude: enjoy the best of Nature
Sping hikes are amazing. The snow can change a lot year by year so it is not easy to plan in advance. Though anytime you come hiking in the Alps it will worth the visit. Waterfalls, white waters animals and flowers. Spring is the explosion of Nature after many months of total white of snow! Enjoy the rebirth of Nature with Trekking Alps in the Italian Mountains.