Summer Hiking: Hiking the Alps in June
Probably the best month of the year for hiking. Lush Nature and Snowcapped Peak
Hiking the Alps in June is a unique and magic experience. The Alps are at its best. The Nature is born again aftern many months of snow and the melting water create huge waterfalls and generally big streams and river.
The flower start to grow in the forest and below the tree line. Hiking the Alps in June is the place you want to be, at the right time.
The mountain lodge(hut) usually open after the second week of June and it is possible to organize many of the possible long trek.
Depending on the amount of snow that have been falling the last winter it is possible to reach the pass above 2500 meters. In this month everything change very quickly so it is not easy to choose the exact trek in advance.
But if there is not a doubt is that seeking the beauty, hiking in June is certainly not difficult.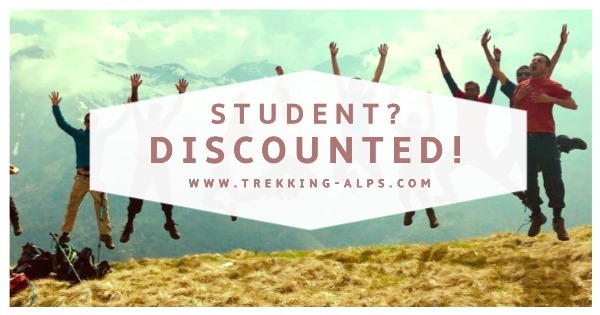 Alps Adventures in June from my Blog
This is our Trekking Alps offer for Hiking the Alps in June
Consider that every season is different so you always need to contact us to see which hike are avaiable considering the mountain conditions.
We have Plans in June
You can choose among these planned hikes. Join and save!
During: 4 days
Partecipants (until now): 2
YOU CAN JOIN THIS HIKE
The Gran Paradiso National Park Hiking is set in Cogne valley which is widely considered the most beautiful valley of the most beautiful National Park of Italy: Gran Paradiso. Hiking in Gran Paradiso is a dream for outdoor enthusiasts all around the world and one of the must-do trekking in Italy. This amazing Hike is a perfect experience for all kind of trekkers: air is pure and colors here are vivid and strong. We can change the details of the walk according to your need. As in every Trekking Alps trek, it is possible to tailor-make the trek depending on...
Discount price:
€ 499.00
€449.00
During: 4 days
Partecipants (until now): 2
YOU CAN JOIN THIS HIKE
This trek is set in Susa Valley, the valley that connect better France and Italy. For this reason the Valley is full of history: the war between Napoleon and Savoia, between France and Italy left an amazing heritage up in the mountains. And remember us how important is peace. It is incredible to think that cousins like French and Italians were fighting in the extreme conditions of the mountains up there. This trekking has a strong historical soul as this area is been always part of history. We will be able to visit the Roman city of Susa which was...
Discount price:
€ 599.00
€550.00
Contact us for any Question about Hiking in June
Summer Hikings you can Choose from