Summer Hiking in the Alps: Hiking in July
Freedom of Summer Hikes in the Amazing Alpine Environment
If you decide hiking in the Alps in July you'll have great time!
Almost all the mountain passes are snow free and you will be able to connect trails from valley to valley exploring high altitudes hiking in the Italian Alps.
July is a great month for hiking also because it is not as crowded as August but you have all the hut open for you. So the amount of trails that you can do are limitless. Also July is usually pretty warm everywhere else.
So if there is a nice place to be while you are in Europe or in Italy in July is between 2000 and 3000 meters enjoying spring again. Flowers up in the mountains are exploding and you'll have a perfect glimpse of how cool it is to hike in the alps.
One of the favourite month of Trekking Alps. Also it is pretty high season so it is not difficult also for solo hikers to join a Planned Hike and save money.
July is also perfect for berries: free vitamins for most of the Alps hiking routes all the way up!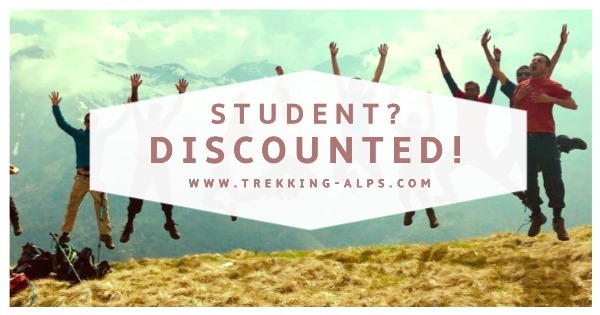 Alps Adventures in July from my Blog
This is our Trekking Alps offer for the month of July
Consider that every season is different so you always need to contact us to see which hike are avaiable considering the mountain conditions.
We have Plans in July
You can choose among these planned hikes. Join and save!
During: 4 days
Partecipants (until now): 3
YOU CAN JOIN THIS HIKE
This long, marvelous trekking surrounds the majestic Monviso Peak(3841m), enormous king of western Alps. In this customized Tour of Monviso, the hiking days are quite long even though the gradient of altitude is not so high. The landscapes are very beautiful with huge meadows and rocky mountain all over. This long trekking start from the Waldesian Pellice Valley and every day proposes an alpine hut as a shelter, which means hot meals every night after our daily hikes! This is valid in the period between June and September. During the rest of the year, the shelter is unguarded and we...
Discount price:
€ 849.00
€550.00
During: 1 days
Partecipants (until now): 2
YOU CAN JOIN THIS HIKE
Day trek in Piedmont will give you a strong taste of the amazing mountains there are in this very beautiful area of Italy. Piedmont has been selected by Lonley Planet as the first region to see int eh entire world in 2019. And there is a reason for that! It is just amazing the breathtaking places we can reach in the nearby mountains starting from Torino, Piedmont. In a simple day trek in Piedmont, we can explore one of the marvelous valleys next to Torino, which hosted the Winter Olympic games in 2006. Torino is set in Piedmont a marvelous...
Discount price:
€ 90
€80.00
During: 3 days
Partecipants (until now): 2
YOU CAN JOIN THIS HIKE
The Tour of Gran Paradiso is fit for those who want to sleep in shelters(rifugio). If you want to experience the wonderful Gran Paradiso National Park in lodges and you do not have more than 3 days this is your best option. You will discover one of the most beautiful parts of the Park and we will have a great view over the Gran Paradiso Peak and its glaciers. The lodges offer you the comfort of the prepared meals and heated rooms. The hike is pretty challenging but not impossible. Also, it is actually possible to make two different itineraries:...
Discount price:
€ 539.00
€499.00
Contact us for any Question about Hiking in July
Summer Hikings you can Choose from