Summer Hiking in the Alps: Hiking in July
Freedom of Summer Hikes in the Amazing Alpine Environment
If you decide hiking in the Alps in July you'll have great time!
Almost all the mountain passes are snow free and you will be able to connect trails from valley to valley exploring high altitudes hiking in the Italian Alps.
July is a great month for hiking also because it is not as crowded as August but you have all the hut open for you. So the amount of trails that you can do are limitless. Also July is usually pretty warm everywhere else.
So if there is a nice place to be while you are in Europe or in Italy in July is between 2000 and 3000 meters enjoying spring again. Flowers up in the mountains are exploding and you'll have a perfect glimpse of how cool it is to hike in the alps.
One of the favourite month of Trekking Alps. Also it is pretty high season so it is not difficult also for solo hikers to join a Planned Hike and save money.
July is also perfect for berries: free vitamins for most of the Alps hiking routes all the way up!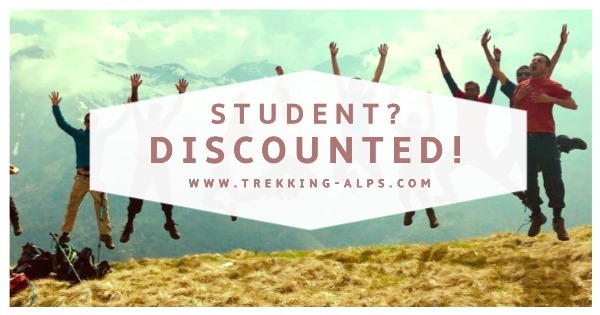 Alps Adventures in July from my Blog
This is our Trekking Alps offer for the month of July
Consider that every season is different so you always need to contact us to see which hike are avaiable considering the mountain conditions.
We have Plans in July
You can choose among these planned hikes. Join and save!
During: 4 days
Partecipants (until now): 2
YOU CAN JOIN THIS HIKE
This hut to hut Gran Paradiso Hike provides a taste of the region's natural beauty, from alpine meadows and dense forests to stunning lakes and high mountain passes. It's a journey that showcases the park's biodiversity and offers hikers a memorable adventure in the heart of the Italian Alps. The Hike is neither too strenous nor too easy. It is a perfect hut to hut experience for beginner with decent phisical shape and willing to challenge theirselves. The hike take place in between two valleys neslted between Gran Paradiso and Mont Blanc peak: Rhemes Valley and Valgrisenche Valley. These valleys...
Discount price:
€ 599.00
€599.00
Contact us for any Question about Hiking in July
Summer Hikings you can Choose from