Spring Hiking in the Alps: Hiking in March
Amazing start of Spring in the Amazing Italian Alps
In many ways March is still a winter month, specially up in the mountains. Most of the time in hiking in March we will use snowshoes.
Conditions of the snow must be evaluated very carefully in choosing the itinerary as it can be pretty dangerous in terms of avalanche, as in the rest of the winter.
We always put Safety First so we will choose only very safe itinerary. March hiking can mean also snow free hike at lower altitude and more in the Mediterranean riviera, to escape the winter months and start enjoying the spring.
Enjoy the fantastic month of March for your trekking in the Alps. You'll find the amazing outdoor adventure that you were looking for. March is a grear period for snowshoeing and it can be the best experience waiting for you in the marvelous mountains of Europe.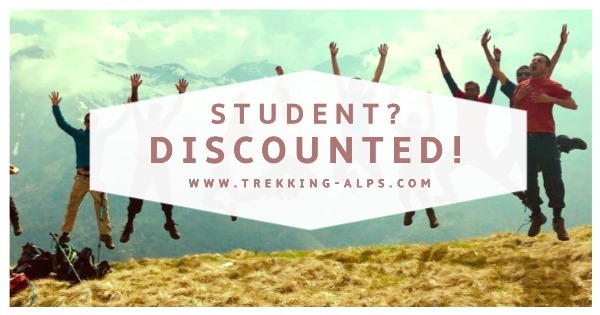 Alps Adventures in March from my Blog
This is our Trekking Alps offer for the month of March
Consider that every season is different so you always need to contact us to see which hike are avaiable considering the mountain conditions.
We have Plans in March
You can choose among these planned hikes. Join and save!
During: 2 days
Partecipants (until now): 3
YOU CAN JOIN THIS HIKE
Mongioe Trek in the Ligurian Alps is a unique opportunity to enjoy the mountains near the sea! This hike is located in the Marguareis Natural Park, a twin park with the Maritime Natural Park. The Ligurian Alps offers you a fantastic opportunity to have such a different environment with respect to the Alps around it. The Mongioe peak is pretty high, at more than 2600 meters and offer amazing views over the Ligurian Alps and the Maritime Alps in general. Moreover this trek, in being far from any other is a good option when the weather is not good in...
Discount price:
€ 169.00
€150.00
During: 1 days
Partecipants (until now): 1
YOU CAN JOIN THIS HIKE
A Day Trek from Milan is not only possible, but it is also a must if you like the mountains! If you are in Milan and you want to have an outdoor experience, the mountains are not too far and this is the right place if you want to have a day Hike from Milan in the Alps. Trekking in the Alps is one of the must-do experience if you are in the north of Italy. Italian Alps are not overcrowded and offer you amazing silence and beauty. Wonderful valleys, lakes and peaks are possible to enjoy all year round...
Discount price:
€ 80
€80.00
During: 1 days
Partecipants (until now): 1
YOU CAN JOIN THIS HIKE
If you are looking for an adventure in winter a snowshoes hike from Turin is the right one! If you are in Turin or in the north of Italy during winter you can have a different experience. The mountains will be very close to you and it is the right time to try a nice snowshoes hike from Turin. Snowshoeing is an activity fit for all and we can organize the day winter hike in a very different way. It can be a strenuous Snowshoes day hike but it can be also quite gentle. The mountains near Turin are amazing...
Discount price:
€ 90
€90.00
Contact us for any Question about Hiking in March
Spring Hikings you can Choose from