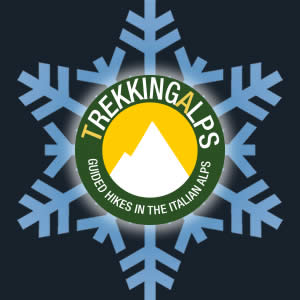 Alps Hiking in Winter - December, January and February
Wild environment, cold temperatures and white landscapes. Live the mountains when the Nature is more extreme!
Winter Alps hiking in Italy is not your typical easy holiday. If you are looking for winter hiking in Europe with is the right place to come. The best hikes for your winter holidays are here! Winter can be harsh, dark, freezing. In a word: uncomfortable. Nonetheless the Alps in winter are enchanting and lovely and probably offer the best views and landscapes of the year. Mountain is an harsh environment generally speaking: it is tiring to move, can be dangerous and you are under the nature law, often outside the comfort zone. But this is why you feel so alive when you are hiking in the Alps mountains: you feel that life is not taken for granted. 
In the winter mountain hiking this is even more true: you can feel the adventure even more than in the other seasons. When the snow is thick, walking and hiking is really tiring and sometimes to reach the target becomes impossible. To organize an hut to hut for many days with snowshoes is quite hard and it can be arranged just for really adventurous and bold people. In the Alps in Italy, mountain passes are covered by snow and it is very hard to arrange a continuous few days hike, sleeping in the mountains. Nevertheless it is also possible to arrange easy winter hiking in this corner of Europe, sleeping in bed and breakfast or in easy to reach shelter open all year round. If you want to experience the harshness of the mountains, an winter hike in Italy will be just unforgettable. If you pass by Europe in Winter, do not miss hiking and snowshoeing in the Italian Alps!
Winter Hikes in Europe - Italian Alps
Hiking in winter in the Alps can be a serious thing. Bust it is also something very nice and suitable for all. The reason why you should come hiking in winter are the following:
Snow Landscape The unique enchanting landscape of winter is incomparable
Real Mountain environment the best and extreme mountain enviroment is in winter!
The winter hikes are a very good option. Ask us and we will tell you which hikes are avaiable with snowshoes or just winter hikes in the Alps.