Winter Hiking in the Alps: Hiking in December
The First Month of Winter, Welcome Back Snow!
Hiking in December in the Alps can very rewarding. Snowshoes will most probably be our way to hiking the alps in December because usually it means hiking in the snow.
In some special years there is not much snow but usually December hikes are basically winter hikes. This means freezing temperatures, few paths available and white landscapes.
Winter hiking can be pretty hard and the Inn to Inn tour are the best for this period.
You spend a bit more but having access to light, warm water and a comfortable bed in this season is more important than in other season.
The weeks between Christmas and 31st of December can be more crowded while the rest of December is usually very uncrowded all over the Italian Alps.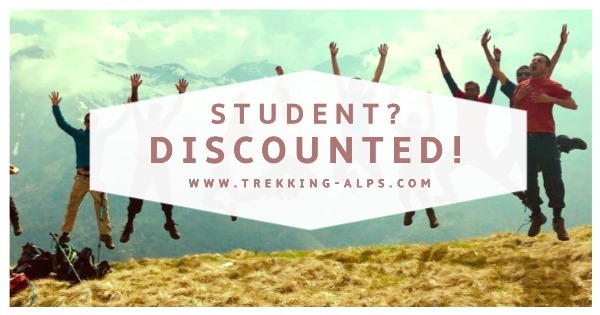 Alps Adventures in December from my Blog
This is our Trekking Alps offer for the month of December
Consider that every season is different so you always need to contact us to see which hike are avaiable considering the mountain conditions.
We have Plans in December
You can choose among these planned hikes. Join and save!
During: 1 days
Partecipants (until now): 2
YOU CAN JOIN THIS HIKE
Day trek in Piedmont will give you a strong taste of the amazing mountains there are in this very beautiful area of Italy. Piedmont has been selected by Lonley Planet as the first region to see int eh entire world in 2019. And there is a reason for that! It is just amazing the breathtaking places we can reach in the nearby mountains starting from Torino, Piedmont. In a simple day trek in Piedmont, we can explore one of the marvelous valleys next to Torino, which hosted the Winter Olympic games in 2006. Torino is set in Piedmont a marvelous...
Discount price:
€ 90
€80.00
During: 3 days
Partecipants (until now): 2
YOU CAN JOIN THIS HIKE
Snowshoeing is a fantastic activity bringing you in the mountain silence even in the cold season near Torino, Italy. Orsiera Natural Park Snowshoeing is an amazing opportunity to live three days of silence while most of the mountain lovers will be skiing: the luxury of solitude and pure wilderness. In this specific case, we will reach the Orsiera bivouac hut at 2000 meters of altitude. A small hut 6 Km and 3 hours of walk far from every human activity. The shelter is a 10-bed hut with a small wooden stove. The area next to the refuge is populated by...
Discount price:
€ 449.00
€430.00
Contact us for any Question about Hiking in December
Winter Hikings you can Choose from