Summer Hiking in the Alps: Hiking in August
Escape the unpleasant hot of the cities and reach back the spring up in the Alps!
Hiking in August have some big plus and some features that you have to consider before to start.
August is when, in Italy and not only, most of people are on holidays. That means that is the month where you will find more people hiking in the Alps. The reason why August is so busy is also because the mountains are at its best.
All the passes are snow free and you can enjoy the hiking and the mountaineering season without thinking about snow. For this reason it is important to choose an area that is not very popular to enjoy mountain in silence and intimacy. For this reason we usually avoid the famous area of Monte Bianco and Gran Paradiso.
Just ask us and we will suggest you the best area where to go. Also using unguarded huts hiking in August is not particularly smart as they are often full.
Even the hotel in some area do not accept single day booking, so you have to plan your hiking holidays carefully.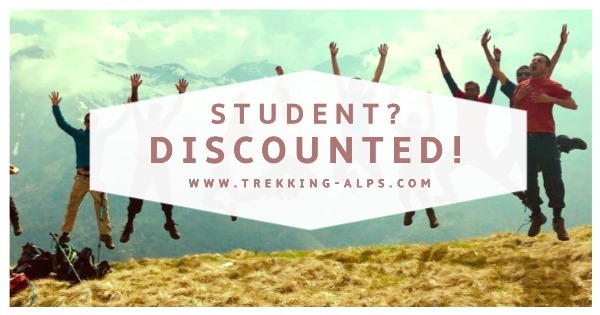 Alps Adventures in August from my Blog
This is our Trekking Alps offer for the month of August
Consider that every season is different so you always need to contact us to see which hike are avaiable considering the mountain conditions.
We have Plans in August
You can choose among these planned hikes. Join and save!
During: 4 days
Partecipants (until now): 3
YOU CAN JOIN THIS HIKE
This Lanzo Valleys Wild Trail is very much advisable for people looking for a real adventure: hiking every day in a different valley, sleeping in high altitude in a small unguarded hut, you will feel very close to Nature. This is an amazing wild trail in the Italian Alps and you can feel the Nature all year round here! During the day we keep our north direction crossing small villages where we can have our lunch and buy food for dinner. This trekking is meant for people willing to live a real natural experience far away from everyday life comforts:...
Discount price:
€ 479.00
€460.00
Contact us for any Question about Hiking in August
Summer Hikings you can Choose from
FLEXIBLE
No Standard Price for this Hike
Mountains Hikes in Comfort
This Inn to Inn Maritime Alps discover is a great way to enjoy the mountains with comforts. The Maritime Alps are particularly indicated in the half season such as Spring/Early Summer and Late Summer/Autumn....
Inn to Inn Maritime Alps Discover - Planned Dates
2019 - JUN 20 / JUN 22 (Days: 3 - Participants: 1)

Join this hike: € 600.00(tbd)
Wild Northern Piedmont Hike
This off the beaten track hike is located in northern Piedmont, part of Monte Rosa area but also not far from Lake Maggiore. In particular, the hike is located in the Sermenza Valley a wild side valley of the Sesia Valley, which ends in the beautiful Alagna, just below the Monte Rosa massif....
Wild Northern Piedmont Hike - Planned Dates
2019 - JUN 07 / JUN 09 (Days: 3 - Participants: 2)

Join this hike: € 330.00(€ 449.00)
Try the luxury of Disconnection! From Mobile and even from making pictures. Discover how beautiful it can be to be free from any Social Media Pressure and Live the moment!...
Mobile Free Hiking Holiday - Planned Dates
2019 - JUN 04 / JUN 05 (Days: 2 - Participants: 3)

Join this hike: € 170.00(€ 179.00)
FLEXIBLE
No Standard Price for this Hike
Adventures and Exclusive SPA
The Matterhorn Exclusive Trek will have a very luxurious headquarter in the an amazing 4 stars hotel located in Chamois. Chamois is a unique village. It is the only one of the entire west alps that is reachable only by Cable Car. The cable car runs every 30 minutes and allows you to arrive in the enchanted village of Chamois. Using as an headquarter the beautiful Maison Cly hotel, we will hike for as many days as you want. ...
Matterhorn Exclusive Trek - Planned Dates
2019 - JUN 17 / JUN 20 (Days: 4 - Participants: 2)

Join this hike: € 700.00(tbd)
FLEXIBLE
No Standard Price for this Hike
Gran Paradiso Hikes in Comfort
To come hiking in a Inn to Inn in Gran Paradiso is a wonderful choice. Gran Paradiso National Park has 4 valleys and in this website we also include in this area the Mont Avic Natural park and few other small valley. ...
Inn to Inn Gran Paradiso Discover - Planned Dates
2019 - JUL 15 / JUL 18 (Days: 4 - Participants: 1)

Join this hike: € 650.00(tbd)
Mont Blanc view from Shelter
If you want to experience wilderness, Mont Blanc is usually not the right place. Tour of Mont Blanc became one of the must do hike in the world and many people is hiking around all year long. ...
A Night in Lodge in Mont Blanc - Planned Dates
2019 - JUN 01 / JUN 02 (Days: 2 - Participants: 2)

Join this hike: € 199.00(€ 199.00)
Day hike from Turin are wonderful. Join one of our hike or plan it whenever you want. Wonderful Alps experience even in half day....
Day Trek in Piedmont - Planned Dates
2019 - JUL 04 / JUL 04 (Days: 1 - Participants: 2)

Join this hike: € 80.00(€ 80)
The Most Beautiful Italian National Park
Hiking holiday in Gran Paradiso is a fantastic adventure. Cogne valley is considered by many people the most beautiful valley of the most beautiful national Park of Italy: the Gran Paradiso National Park. Air is pure and color here are usually vivid and strong with a typical mountain environment....
Gran Paradiso National Park Hiking - Planned Dates
2019 - JUN 11 / JUN 14 (Days: 4 - Participants: 1)

Join this hike: € 399.00(€ 399.00)